The Sizzler - 铁板神话
(N1.55269 E103.78461)
is located along
Jalan Mutiara Emas 10/19 of Taman Mount Austin - Johor Bahru
, just below the
Show Planet Karaoke
. They serve Taiwanese Style Western Food (台式西餐) and we visited the restaurant was on a Thursday evening because of the
Legendary
Sizzling Pork...
The Sizzler
It was not corwded and the restaurant has a simple setup, the kitchen is an island in the middle of the restaurant...
Without second words, we placed our order :-
* Sizzling 1K Pork (
千里千寻猪)
* Sizzling Crispy Chicken
(美国轰炸鸡)
The foods served on the table less than 15 minutes...Fast!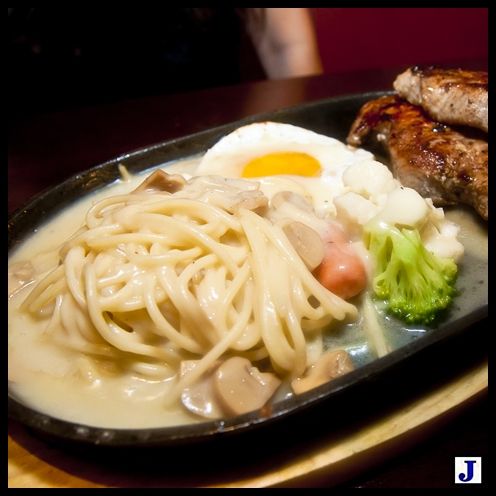 The package serve on the sizzling plate with pasta, egg and some vegetbles. We can choose one of the 2 types sauces for the pasta, so we decided butter sauce for the Sizzling Pork and mushroom sauce for the Crispy Chicken.
Sizzling Crispy Chicken (美国轰炸鸡)
Mushroom sauce pasta, egg and vegetables same package with the Crispy Chicken
The portion was big for each person, the pork was
well marinated
and
succulent!
We like the taste very much! As far as I know, this is the Only restaurant serve this meal for the moment around Johor Bahru. It was a surprise for us!
Delicious!
For pork lover,
you shouldn't miss this!
The succulent Sizzling 1K Pork
The
Sizzling Crispy Chicken
taste above average, the chicken was
moist enough
and not too dry! It was
Crispy
excatly same as the name of the dish. Admired the way they control the heat...
Nice!
Nice Sizzling Crispy Chicken
The portion was really more than enough for a person, we overloaded again! We satisfied with the foods here and
The Damage :
Sizzling 1K Pork
-
RM23.90
and
Sizzling Crispy Chicken
-
RM19.90
. Reasonable price and if possible improve to a better grade pork that will make the dish more Delicious and valueable! Just a suggestion. :)
Both pastas were average and after the meals, everyone is offer with ice-cream on the house...
Beside these 2 dishes, they do serve steak, lamb, salmon and Germen sausage too!
My tip : It's advise Not to visit on crowded weekend because of...1) It might get very oily because of the kitchen is close to the dining table, 2) Food quality might not as good as week day due to the crowded situation...at least for the moment. Well, these are just my 'personal suggestions' with no obligation and still...your choice to decide it.
We will visit again in the future for other dishes!
The Sizzler - 铁板神话
G45, Jalan Mutiara Emas 10/19,
Taman Mount Austin,
81100 Johor Bahru.
Tel : +6016-7730303
The restaurant is closed (update 15-10-2014)
Location map of The Sizzler (铁板神话) at Taman Austin Perdana, Johor Bahru.