After a long distance traveling from the jetty of
Gili Nanggu
, we reached the capital of Lombok Island -
Mataram
. Our driver directly drive us to the restaurant for dinner, yes...we were hungry!
Al-Hamra Restaurant
(Arabian cuisine)
(S8.58223 E116.10534)
, we reached the destination in the perfect timing! Because power failure! The whole restaurant was lighted with candles and looks romantic in the way...haha!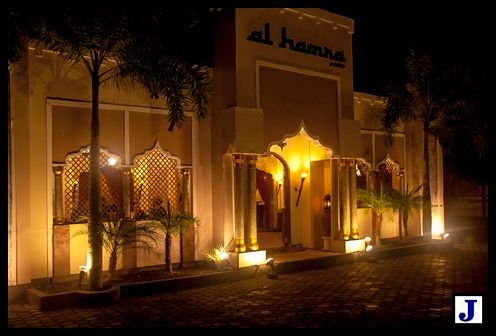 Al-Hamra Restaurant, Mataram
There were candles lighted in every corner in the restaurant, and all us were waiting in the room...for dinner.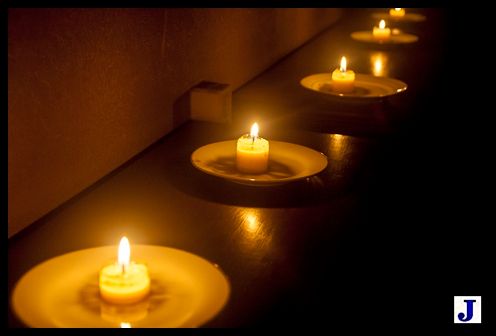 Patiently waiting...
Fortunately the electricity resume in about 15 minutes...smile on everyone face instantly! Haha!
And I started to snap around...the restaurant is decorated in Arabian way...cozy, relax and comfort in every corner.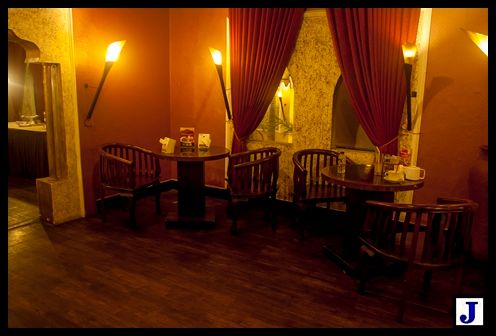 Different deco in different corner of the restaurant
One of our tour mate is a vegetarian, and her dish was the first on our table...well, no comment on it.
The vegetarian dish of that evening
After a while, everyone food was served on table, pretty fast! Everyone has same dish which was the chicken soup, followed by their signature grilled lamb.
Chicken soup
The soup was tasty, and somehow a bit unique of the taste. I quite like it.
The grilled lamb was well marinated, but not tender enough...maybe due to the power failure...maybe...but we enjoyed the lamb very much!
It taste differently compare with Arab cuisine in Malaysia, I believe all because of the different herbs and spices were use to prepared.
The grilled lamb from Al-Hamra Restaurant
Everyone was served for the Arabian fried rice after the lamb. We like the special taste of it, went well with the sambal chili. Excellent!
Arabian fried rice
I'm not good to verdict in Arabian cuisine, but our dinner was taste above average. It's worth to try if you are happen in
Mataram, Lombok Island
.
The restaurant has ample parking lot, even for express bus...we realized it after the electricity resume.
After our dinner, we had another 45 minutes on road traveling back to
Senggigi beach
where our resort located...let's rockz!
Related post for Lombok island trip :-
*
Airasia media FAM trip to Lombok Island - Indonesia on July 2014
Location of Al-Hamra Restaurant at Mataram, Capital of Lombok Island - Indonesia.