Malacca
(Melaka) state administration develops the river since 2005 to 'pollution-free water', gardens on its banks and pedestrian walkways along the river. This is the river where the war begin and end, and also the place where Melaka (Malacca) began. It was a busy port and a tourism river today. The Malacca River was dubbed as
"Venice of the East"
by European seafarers.
I take this CNY holiday to visit this glorious history river. The jetty is at the opposite of
Traffic Police HQ
after the
Dutch Square
(so called Red House).
N2 11.588 E102 14.834
(Refer from the map). I was confusing when I saw another jetty at the Dutch Square, but the boat men ask us to get the jetty at the place mention above.
45 minutes journey for
MYR5.00 (adult) & MYR2.00 (children)
. There must be a minimum of 8 persons for each fiberglass boat ride. My daughter was very excited because this is her first boat ride.
(Best ride time 5pm-7pm)
Beautiful sunset with the boat......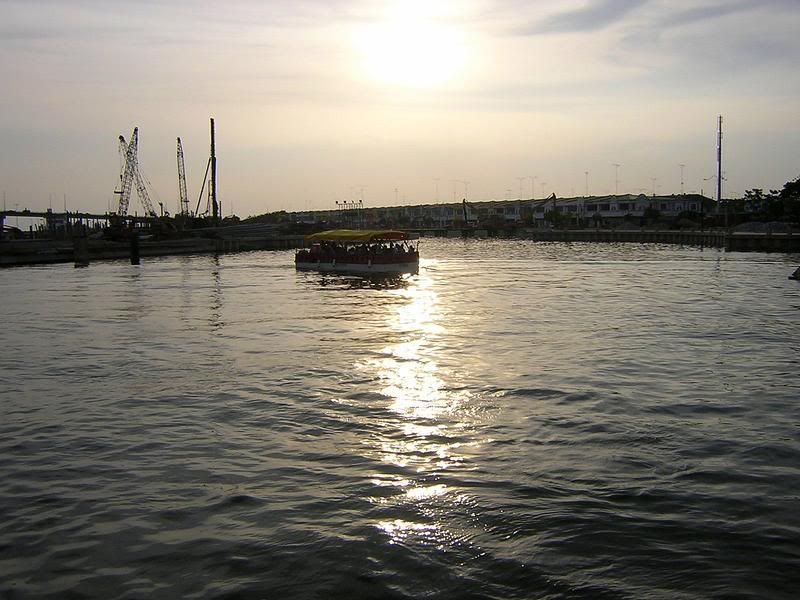 You will see the first building on your left.......
On the right.....the Dutch Square
There are many bridges along the river which serving the residents of left & right riverbanks.
The first bridge was
Tan Kim Seng Bridge
. The bridge captured by the Portuguese on 1511, purpose is to break down the communication line, and subsequently gain a significant advantage to win the war.
And follow by
Chan Koon Cheng Bridge
which built on 1908. It was a steel fabricated bridge and reconstructed on 1963 to concrete bridge.
Further up, another pedestrian footbridge called
Kg. Jawa Bridge
also known as
'Ghost Bridge'!
But I can't find any mythical reasons with it.
Next to it is
Pasar (market) Bridge
which links a village with the former Central Market.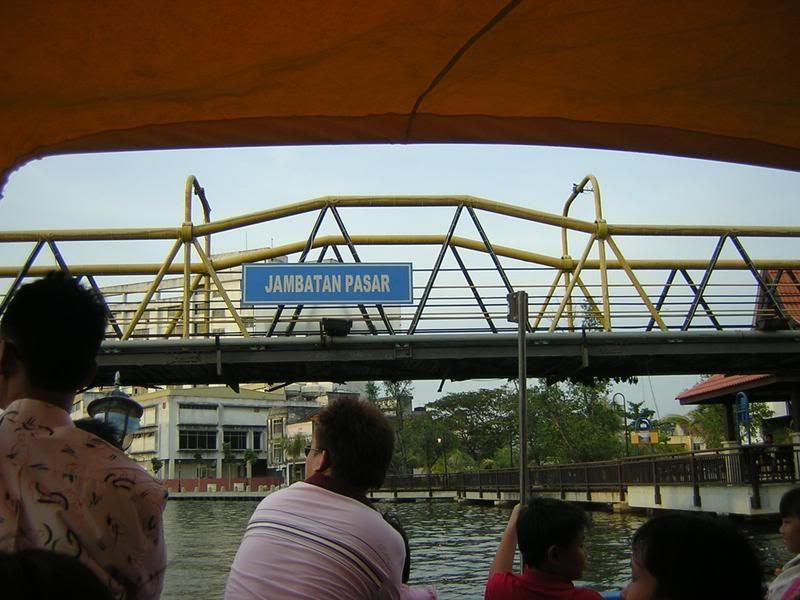 Follow by,
Hang Tuah Bridge
.
Hang Tuah
was the hero of
Sultanate of Malacca
in the 15th century. On the right bank was Cathay Cinema which closed down in the late 1990's.
After the bridge, the
"Eyes of Malacca"
appear clearly in front of you......
Then you will explore the typical Malay village -
Kampung Morten
on the left. This village located in the heart of Malacca town. It's considered as a living museum because of villagers still preserving the old living life style and the unique architecture of their houses. (Till this point, my daughter fall sleep...)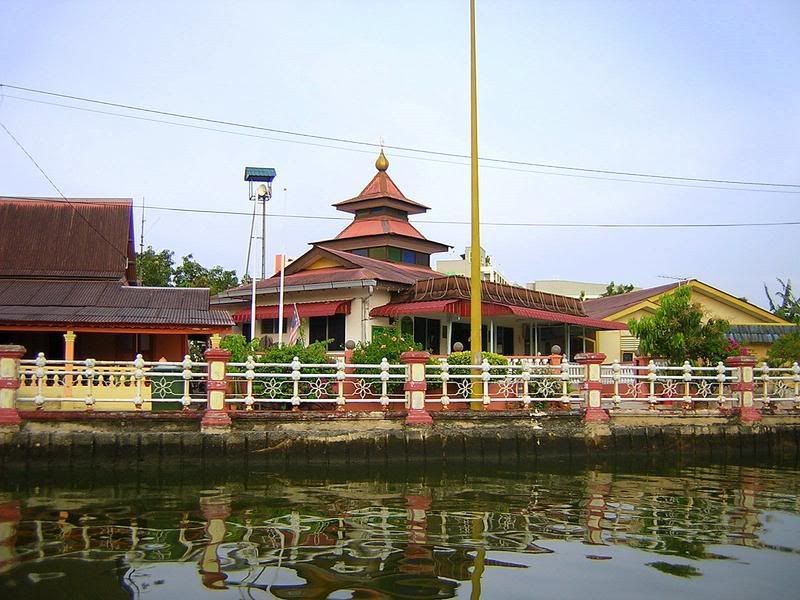 After the village, the boat make a U turn back.......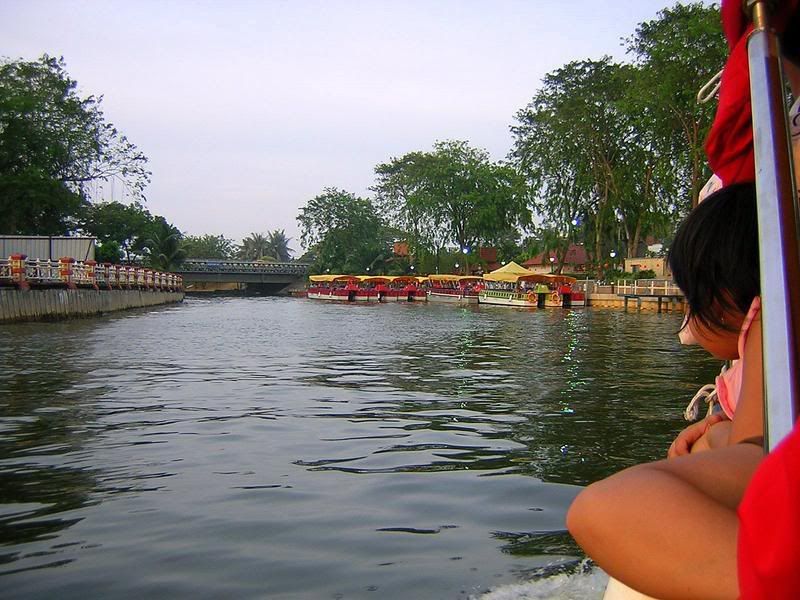 Some nice pictures along the riverbank.....
Most of the houses built along the riverbanks during Dutch rule are featuring long and narrow architectural design, because owners of long and narrow buildings did not have to pay tax. I just realize on this trip!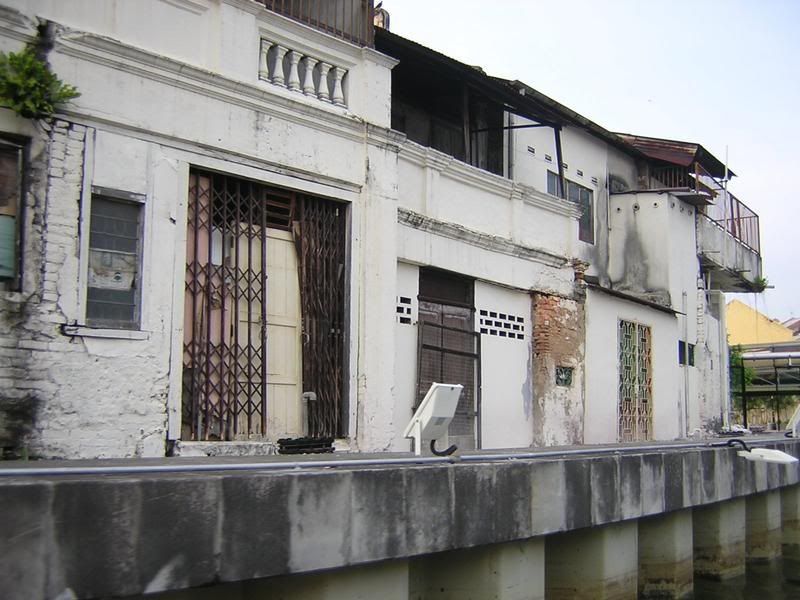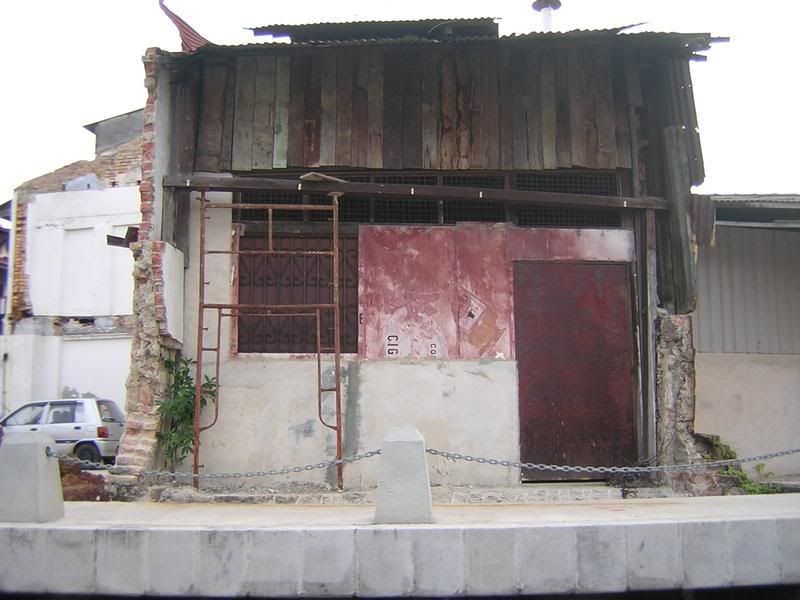 I took this photo while the boat almost reach the jetty.....
Informations source : AmazingMelaka.com
Related Melaka post :-
*
Panaroma Malacca (Melaka) Tour Bus
*
An Evening at Malacca (Melaka)
*
Stadhuys, Malacca (Melaka)
*
St. Paul's Church, Malacca
*
Aldy Hotel, Malacca (Melaka)
*
Jonker Walk Night Market, Malacca (Melaka)
*
Ole Sayang Nyonya Food Restaurant, Malacca (Melaka)
*
Dim Sum Restaurant at Malacca
*
Special Homemade Herbal Tea at Malacca
*
Portuguese Village, Malacca (Melaka)
*
Famous Malacca's Popiah
*
Hotel Equatorial, Malacca
*
Taiwan Beef Noodle Malacca
*
Nyonya Suan Restaurant, Malacca
*
Mahkota Parade, Malacca
*
Malacca (Melaka)
MY TRIPS - Home