When we walked pass the
St.Paul's Hill
in the evening, our stomach started to request for filling! :)
We saw this policemen riding on the horse during their patrol duty!!
We were having some light foods at the
Newton Food Court
(N2
°
11.398' E102
°
14.882')
which is located beside
Mahkota Parade Shopping Mall
. My friend told me that they had a marvellous
'Teow Chew Bak Kut Teh'
in the food court, but we were
unlucky
to ordered the worst
'Fried Oyster'
I ever eat before! (The first stall on the right) Really regretted! Please don't try! My daughter was having the fish porridge, taste was average.....
After the food court, we decided to walk back to
Aldy Hotel
. We pass by the
"Menara Taming Sari"
(N2
°
11.456' E102
°
14.822')
which is on the right, follow by the
Museum Samudera
(N2
°
11.522' E102
°
14.797')
.
MYR20.00 for foreigner, MYR10 for Malaysian
,
MYR5 for children
Height : 110 meter
And cross over the bridge, that's the famous night market of Malacca -
The Jonker Walk night market
. The stalls at
Jonker Walk
are same as my last visit.....cloths, toys, foods,and etc.....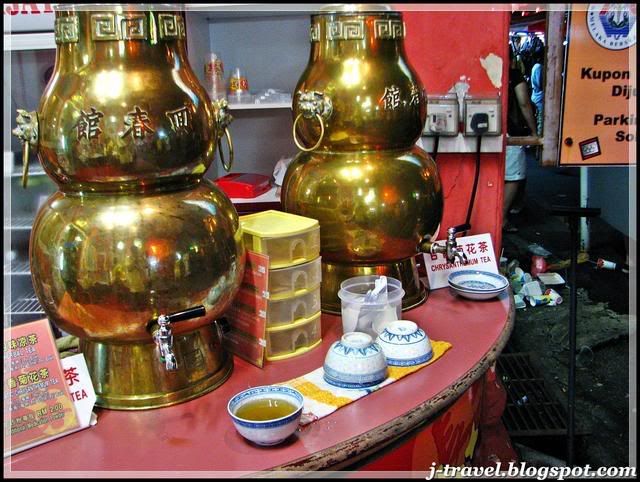 Do you still remember how long you ever see this kind of herbal tea stall? I mean the herbal tea fill in the copper container?
Every time I visit Jonker Walk, I just wanna snap a few photos of this Geographer Cafe. I wonder why??
Trishaw
for
MYR5
back to the hotel.(Too tired to walk, our legs are calling
S.O.S!
)
I bought 4 cans of
Carlsberg
that end our first day in Malacca.
Related Melaka post :-
*
Panaroma Malacca (Melaka) Tour Bus
*
Stadhuys, Malacca (Melaka)
*
St. Paul's Church, Malacca
*
Aldy Hotel, Malacca (Melaka)
*
Jonker Walk Night Market, Malacca (Melaka)
*
Ole Sayang Nyonya Food Restaurant, Malacca (Melaka)
*
Malacca (Melaka) River Cruise
*
Dim Sum Restaurant at Malacca
*
Special Homemade Herbal Tea at Malacca
*
Portuguese Village, Malacca (Melaka)
*
Famous Malacca's Popiah
*
Hotel Equatorial, Malacca
*
Taiwan Beef Noodle Malacca
*
Nyonya Suan Restaurant, Malacca
*
Mahkota Parade, Malacca
*
Malacca (Melaka)
MY TRIPS - Home