Garuda Wisnu Kencana Cultural Park
(S8 48.541 E115 10.043)
located about
12KM
South bound from
Bali Caollection Nusa Dua
. The entrance fee was
rp.50,000
per person.
(Which was the highest entrance fee among the tourist attraction in Bali)
"Mandala Garuda Wisnu Kencana, or Garuda Wisnu Kencana (GWK) is a private cultural park on the Bukit Peninsula at the southern end of the island of Bali in Indonesia. Bukit is a limestone plateau with Uluwatu to the west and Nusa Dua to the eastern.

It is devoted to the Hindu god Vishnu, and his mount, Garuda, the mythical bird who is his companion.

Currently, the statue of Vishnu is 23 m high, although the original plan was for a 146 meter gold plated Vishnu riding Garuda on top of an 11 storey entertainment complex. The idea was not without controversy, and religious authorities on the island complained that its massive size might disrupt the spiritual balance of the island, and that its commercial nature was inappropriate." Source from Wiki.
Limestone surrounded the Cultural Park
The Flying Fox activity also available over here. After the main entrance, we walked pass the lime stone and a huge statue of bird appear on our left! That was the
Mythical bird
-
Garuda Statue
.
The Garuda Mythical Bird statue, which was the companion of The Hindu God - Wisnu
"The statue and its pedestal will be surrounded by more than 240 hectares cultural park which was once an abandoned and unproductive limestone quarry." Source from Here.
Garuda - The Mythical Bird. It was made from tons of copper and brass
This was really a good photography spot. The weather was cooling in the Cultural Park even the sun was direct shine on us, I believe it's gotta do with the Huge Limestone surrounded.
On the left on the
Garuda
, we continued to climb up the staircase and reached the other
Huge
statue -
The Hindu God Wisnu.
"Designed and built by Nyoman Nuarta, one of Indonesia's foremost modern sculptor, the Garuda Wisnu Kencana statue or GWK and its pedestal building will be standing 150 meters tall with its wings span 64 meters across. Made from more than 4000 tons of copper and brass, the statue is picturing Lord Wisnu, as the source of wisdom, riding on the back of the mythical bird Garuda as the manifestation of conscience toward Amerta, the perennial goodness." Source from Here.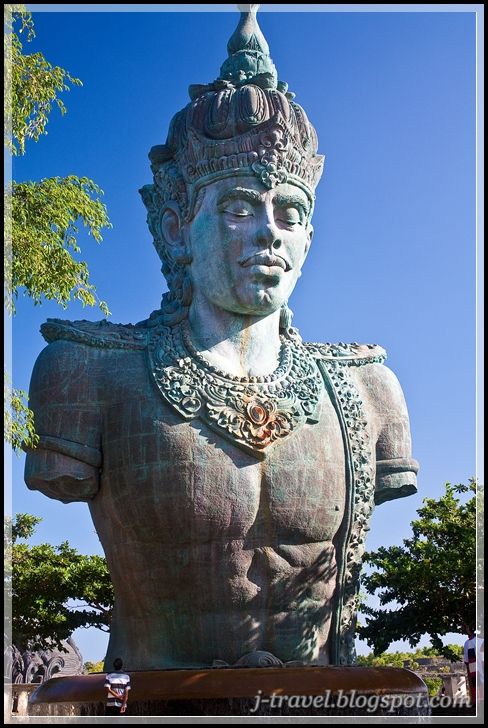 From this
Giant
copper and brass statue, you can see the
Jimbaran Bay
from far....yeah, the place we gonna have our seafood dinner tonight.
There were many souvenir shops in the Cultural Park, and some
Cultural Dance
which I miss it! Because once I step into the last souvenir shop, I was not able to come back to the performing stage!
Oh! What a Miss!
My purpose to this Cultural Park was about photograph. It took an hour for me to finished shooting...And this was also my first time to taste the
Indonesia Famous Sosro Tea -
Teh Botol
. It serve in the bottle and taste like normal tea without milk.
Bali 5 days 4 nights trip :-
* My Bali Trip on June 2010 (D1)
* Harris Resort at Kuta, Bali (D1)
* Made's Warung at Kuta Beach Road (Jalan Pantai Kuta), Kuta - Bali (D1)
* Babi Guling (Suckling pig) of Warung Ibu Oka at Ubud town, Bali (D2)
* Palace opposite Warung Ibu Oka at Ubud, Bali (D2)
* Tegallalang Rice Terrace at North Ubud Town, Bali (D2)
*
Kintamani and Mount Batur at North Bali, Indonesia (D2)
*
Fruit Stall around Kintamani area, Bali (D2)
*
BAS Coffee Farm at Bali, Indonesia (D2)
*
TJ's Mexican Bar and Restaurant at Kuta, Bali (D2)
*
The Kuta Beach of Bali, Indonesia (D3)
*
Pura Taman Ayun (Temple) at Mengwi, Bali - Indonesia (D3)
*
Strawberry Park at Candikuning beside Beratan Lake - Bali, Indonesia (D3)
*
Pura Ulun Danau (Temple) at Bratan Lake, Bali (D3)
*
Pacung Indah Hotel And Restaurant at Bali (D3)
*
One of the Famous Balinese Seven Sea Temples - Tanah Lot Temple of Bali (D3)
*
Bebek Bengil - The Dirty Duck Diner at Ubud, Bali (D3)
* The Legian Street (Jalan) at Kuta, Bali (D3)
*
Bali Collection at Nusa Dua, Bali (D4)
*
Pura Luhur Uluwatu (Temple) at South Bali, Indonesia (D4)
*
Lia Cafe Seafood Restaurant at Jimbaran Bay, Bali (D4)
*
Our Bali Humble Driver - Mr Agoes (D4)
* Farewell Bali Island! (D5)
Location map of Garuda Wisnu Kencana at Bukit Peninsula, Bali