Pura Ulun Danu
(Temple)
(S8 16.551 E115 09.911)
is located at the side of
Beratan Lake
and not far away from the
Strawberry Park
we visited.
History
"Pura Ulun Danau Bratan was built in year of 1633 by the Raja of Mengwi on the western shore of lake Bratan. The Balinese people rely on their rice harvest and the Goddess of water / fertility, Dewi Danu is the deity who is honored here."
Temple design
"The temple itself sits in well manicured gardens and attracts local and foreign visitors. The 2 obvious part of the temple are the structures set on land and the ones set on a point, extending into the lake.
The temples grounds have an assortment of structures including the multi-tiered meru. These pagoda-shaped shrines which are found in almost every Balinese temple, are named after Mt. Meru, a sacred Hindu peak, considered the home of the Gods. The importance of the God being worshiped is indicated by the number of roofs, which is always an odd number, with a maximum of 13."
Source from
Pura Ulun Danau Bratan
.
The entrance of Pura Ulun Danau (Temple) of Bratan Lake
Once we step in the temple, you will notice the entrance to the praying area on the left. I like the decoration...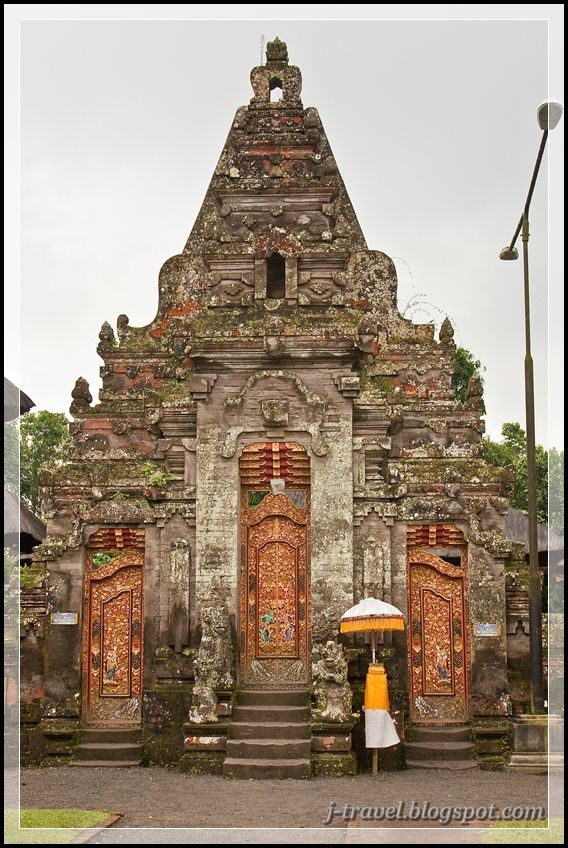 Further in, you reach the lake. Quite of numbers of visitors during our visit, and the weather doesn't look good...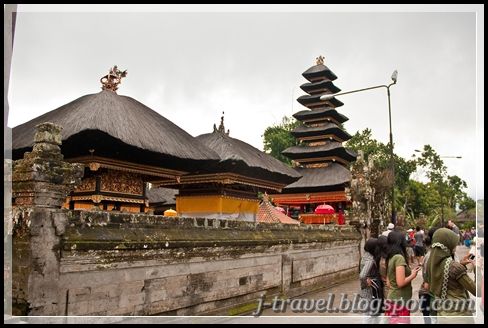 I saw the beautiful temple in front of me! That was the temple I always see it on the internet! It is surrounded by the water and built on a small island. It's one of the most
picturesque temple
in Bali.
Temples surrounded by water
There were boat ride on the lake, and I love the cooling weather while walking in the temple because of it's situated at
1250 meter
above sea level.
The boat ride in Bratan Lake
Too bad the weather was Not on our side, it
started to rain
after our
15 minutes
walk around the temple! It was a
Disappointment!!
We blamed ourself spending too much time in the
Strawberry Park
. So we all got in the car without choice! And I believe I will be back again!
Bali 5 days 4 nights trip :-
* My Bali Trip on June 2010 (D1)
* Harris Resort at Kuta, Bali (D1)
* Made's Warung at Kuta Beach Road (Jalan Pantai Kuta), Kuta - Bali (D1)
* Babi Guling (Suckling pig) of Warung Ibu Oka at Ubud town, Bali (D2)
* Palace opposite Warung Ibu Oka at Ubud, Bali (D2)
* Tegallalang Rice Terrace at North Ubud Town, Bali (D2)
*
Kintamani and Mount Batur at North Bali, Indonesia (D2)
*
Fruit Stall around Kintamani area, Bali (D2)
*
BAS Coffee Farm at Bali, Indonesia (D2)
*
TJ's Mexican Bar and Restaurant at Kuta, Bali (D2)
*
The Kuta Beach of Bali, Indonesia (D3)
*
Pura Taman Ayun (Temple) at Mengwi, Bali - Indonesia (D3)
*
Strawberry Park at Candikuning beside Beratan Lake - Bali, Indonesia (D3)
*
Pacung Indah Hotel And Restaurant at Bali (D3)
*
One of the Famous Balinese Seven Sea Temples - Tanah Lot Temple of Bali (D3)
*
Bebek Bengil - The Dirty Duck Diner at Ubud, Bali (D3)
* The Legian Street (Jalan) at Kuta, Bali (D3)
*
Bali Collection at Nusa Dua, Bali (D4)
*
Garuda Wisnu Kencana at Bukit Peninsula of Bali, Indonesia (D4)
*
Pura Luhur Uluwatu (Temple) at South Bali, Indonesia (D4)
*
Lia Cafe Seafood Restaurant at Jimbaran Bay, Bali (D4)
*
Our Bali Humble Driver - Mr Agoes (D4)
* Farewell Bali Island! (D5)
Location map of Pura Ulun Danau (Temple) at Bali